Life of Great Mother Teresa
Mother Teresa was a true follower of humanity. Many people considered Mother as the "reincarnated form of Lord Jesus". Mother Teresa devoted her entire life in serving the needy and abandoned people of the society.
The original name of Mother Teresa was Agnes Gonxha Bojaxhiu. She was born in Skopje, the capital of Macedonia, on 26 August, 1910. In 1919, when she was eight years old, Agnes lost her father, a noted politician in Albania. At the age of twelve, she felt strongly the "call of God". Her religious foundation developed further and in 1928, she left Skopje to join the Institute of the Blessed Virgin Mary, Ireland. The institution was popularly known as Sisters of Loreto. There, she received the name Sister Mary Teresa. After a training of around six months in Dublin, the capital of Ireland, Teresa was sent to India. On 24 May, 1931 she took her initial vows as a nun.
Contributions
For around next 15 years, Mother Teresa taught at St. Mary's High School in Kolkata. She also became the principal of the school. On 10 September, 1946, while traveling to Darjeeling, North-Bengal, for the annual retreat Mother realized "the call within call". She felt as if the Jesus was asking her to come out of the walls and serve the down-trodden people.
The feeling was so intense that on 17 August, 1947, Mother dressed in white, blue bordered sari left the Convent. In December 1950, Mother for the first time visited the slums of Calcutta. Although she had no funds, she started an open-air school for slum children. Soon she was joined by many voluntary organizations, which provided Mother, a crucial financial support. She founded the Missionaries of Charity in Calcutta, India in 1950. Although her mission started in India, she succeeded in bringing the people of all societies under one roof, i.e. humanity.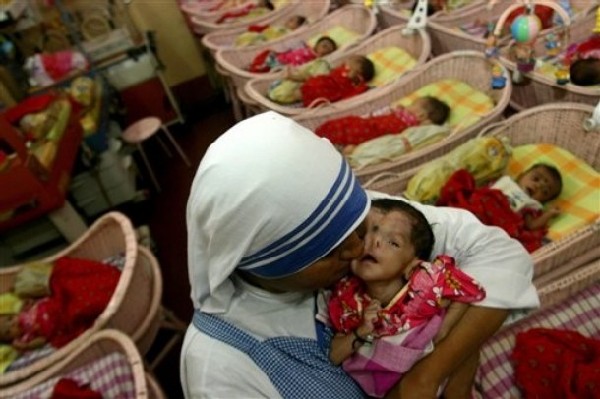 By 1996, she was operating 517 missions in more than 100 countries.[53] Over the years, Mother Teresa's Missionaries of Charity grew from twelve to thousands serving the "poorest of the poor" in 450 centers around the world.
Teresa's Missionaries of Charity continued to expand, and at the time of her death it was operating 610 missions in 123 countries, including hospices and homes for people with HIV/AIDS, leprosy and tuberculosis, soup kitchens, children's and family counselling programs, orphanages, and schools.
Awards
She won the
Nobel Peace Prize
in 1979 and India's highest civilian honour, the Bharat Ratna, in 1980 for her humanitarian work. Mother Teresa had first been recognised by the Indian government more than a third of a century earlier when she was awarded the Padma Shri in 1962 and the Jawaharlal Nehru Award for International Understanding in 1969 for her
social works
. .
In 2010 on the 100th anniversary of her birth, she was honoured around the world, and her work praised by Indian President Pratibha Patil.
Her Last Days
After 1980, Mother suffered some serious health problems including two cardiac arrests. Despite the problems, Mother herself governed the Missionaries of Charity and its branches, as efficiently as earlier. In April 1996, Mother Teresa fell and broke her collar bone. Since then, Mother's health started declining. On September 5, 1997, Mother Teresa passed away.
Devoting her life to the service of the poor and dispossessed Mother Teresa became a global icon for selfless service to others.